I have just returned from a cradle-to-cradle conference at the University of Cambridge. In common with a lot of the people attending, I had heard the phrase and filed it in a mental box with other "cradle-to-something" phrases from the vocabulary of environmental impact assessments. Cradle-to-factory gate, cradle-to-site, cradle-to-grave are all a part of the vocabulary of life cycle assessment and embodied energy/carbon analysis.
So when I picked up a copy of Braungart and McDonough's book last week to get up to speed and found that the title had misled me as to the contents it was quite a surprise. Cradle-to-cradle (or C2C), I found, is not so much an environmental assessment methodology as a set of design principles. And very ambitious design principles at that. This piece will have a look at some of the key principles as I have understood them, at how people at the conference were affected by and were applying the principles, and at how they could find more mainstream acceptance.
Efficiency is not enough
The first principle is there's no point in being efficient if you're being efficient at the wrong thing. To quote from the Braungart and McDonough book: "An efficient Nazi, for example, is a terrible thing", cradle-to-cradle thinking advocates "eco-effectiveness" over eco-efficiency. As a staunch advocate of efficiency, this grated when I first saw it written down, but really it's hard to argue with. The argument goes that a truly cradle-to-cradle building (or product, or society) must not just have smaller harmful impacts, but have no harmful impacts at all. "Being less bad is no good" as the catchy phrase has it.
The idea is that cradle-to-cradle buildings have to have positive impacts – to improve biodiversity, to sequester carbon dioxide, to improve the social fabric of their surroundings. The change in paradigm is from minimising negative impacts to maximising positive impacts. And in principle there's no need to be efficient with your positive impacts.
A repeated phrase from the conference organisers and speakers was that up to now, precisely zero cradle-to-cradle-to-cradle buildings have been built. One of the biggest things I took away from this event is that creating a truly C2C building from start to finish is nigh-on impossible in the modern world. Everything we do has negative impacts, whether on a local scale or a global scale.
Waste is food
There is a strong eco-mimicry feel to the cradle-to-cradle philosophy. To illustrate the concept of closed loops the example of the cherry tree came up over and over again during the day. This was used mostly as an example of why waste is not a bad thing. A cherry tree can be seen as wasteful in that most of the fruit it produces does not go on to grow into a new cherry tree. But in ecology, the "waste" from one process becomes food for another process, or for the next loop of the same process. These loops are a fundamental part of cradle-to-cradle as might be expected. It's the circle of life, to coin a phrase.
Taking a step away from ecology, cradle-to-cradle introduces the idea of technological loops. Here the waste from one technological product or process become the food for another – you're probably picturing something like recycling plastic bottles. But in the techno-sphere recycling is frequently anything but a circle of life and more like a degrading orbit. The term used in cradle-to-cradle circles is downcycling, where the "recycled" product is less useful or less recyclable than the original product. The example that came up in conversation was of empty plastic bottles being shipped to china to be made into fleeces. What are the odds that that fleece won't find its way back into a recycling bin and back to a recycling facility and be made in to another product?
Recycling, in cradle-to-cradle is recycling on steroids. To count as cradle-to-cradle, the product should be made of 100% reused, recycled or renewable materials. Everything should return to the ground as biological nutrients, or be reclaimed as a functional products at the end of their service life. There is no downcycling and nothing ever becomes waste, only a nutrient.
Celebrate diversity
There wasn't a lot of discussion on this rule in practice or on how to apply it (beyond a fair few living roofs). However the array of buildings from various architects on display was certainly diverse, from low impact educational buildings like The Foundry, to much larger buildings like the Adnams warehouse.
I think the most diversity-celebrating and encouraging part about cradle-to-cradle is the simplicity of the "rules". They are surely very hard to live and design within, but in the cracks between those restrictions hugely interesting things can sprout up. This again is the way nature works. The forces of evolution lead to things finding a way to eke out an existence and flourish in the most challenging of environments. Where there is waste, it will be turned into a nutrient – something will fill that niche.
One of the most exciting, and certainly the most enthusiastically delivered talks of the day (from RO&AD architects) contained a very interesting phrase: "Simplicity is compressed complexity". I understood this to mean that when you put together a few simple rules or constraints then allow human ingenuity to go to work on them you can end up surrounded by staggering complexity and diversity. I'm hoping to write up one of their ideas here at some point so I won't go into detail about their awesome idea for a particular building regulation reform. Suffice to say, a few small rules have the potential to play out into something much greater than the sum of their parts.
Responses to cradle-to-cradle
There were a number of completely commendable buildings discussed at the conference including the Adnams warehouse and The Foundry, both of which display cradle-to-cradle thinking in many of their aspects. But the truth is none of them could be considered sustainable from cradle-to-cradle for one reason or another. We often talk about something being more or less sustainable, but sustainable is an absolute word. Just as you can't be more or less pregnant, you can't be more or less sustainable. If we don't eventually get it just right, all we're doing is slowly grinding away the ecological and mineral resources that sustain us. That's a scary thought.
So how is it that cradle-to-cradle has attracted a diverse range of incredibly positive and happy people? I think the root of it is that many have all but done away with the concept of sustainability equalling efficiency. Eco-effectiveness is the order of the day. My concern there was that under the cradle-to-cradle principles, things should have only positive impacts. No trade-offs allowed. No off-setting, no cost-benefit analysis, no WorthIt?. This didn't seem to be the view of many of the conference attendees and presenters, with some notable exceptions.
And boy, am I thankful for that. We need a route from here to there, and in figuring out that route there certainly is a place for all those things – if only to buy us some more time.
How to measure cradle-to-cradle
So where do we go from here? As I was sat getting during the first session very excited about how on earth you might go about measuring cradle-to-cradle, Dr Peter Bonfield of the BRE was very obviously doing exactly the same thing. In fact he seemed so excited by what was obviously also a new idea to him that his talk later on was only tangentially connected to his slides (which were mainly about the 2012 Olympics development).
And to cap it all off, his speech ended with a sincere statement of aspiration to make the first cradle-to-cradle building in the world at the BRE innovation park, and to make it soon.
The way I see it, cradle-to-cradle is an aspiration. It is about continuous improvement. A phrase that came up (sorry, I don't remember which talk) was know your chains, improve your chains, close your chains to make them into loops. This is very much like any other continuous improvement or quality process such as ISO 9000 or SixSigma.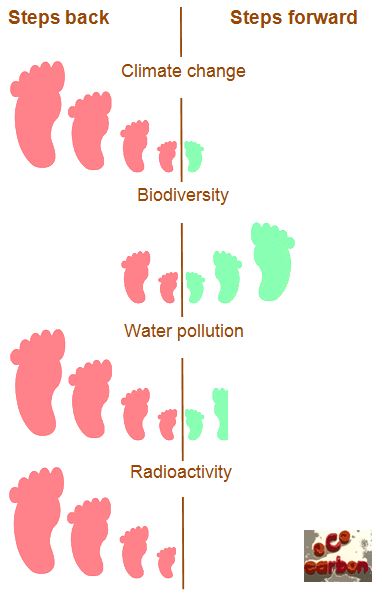 Another way, based around the of LCA reporting is that a way of representing the results might be in some sort of a star rating with a set of areas in which impacts (both positive and negative) can be made. I was doodling away, inspired by Dr Matthew Hunt of Royal Haskoning's green feet (not literally!), Peter Bonfield's enthusiasm and a conversation with Brian Murphy of GreenSpec about the BRE's materials rating scheme and came up with something like this.
It is inevitable that some things will come with both a benefit and a cost, but we only measure either the cost, or the net effect. Balancing them up is a natural human instinct. But we ought to see the cost as what it is. For one thing, the cost may not fall on the same people as those who accrue the benefit, and they cannot always be compensated. Not everything is as easily exchanged as money. It is important to have a way to bear this in mind, and I think keeping the negatives clearly visible is a good way of doing this.
Being almost totally new to cradle-to-cradle I can see it is a very exciting idea to come across and a lot has clearly been done to make it a coherent philosophy. There is going to have to be a lot of reconfiguring of how I think about measuring the desirability or otherwise of things over the next few years.
Peter Bonfield will be doing much the same. I think he will have got back to his office at BRE, picked up a copy of cradle-to-cradle, read a few pages and wiped his fevered brow at that impulsively delivered pledge to make the first cradle-to-cradle building in the world. As if greening the Olympic Games wasn't a hard enough task for one man!
Here's a toast to ambition and let's hope he sees it through. He's going to need an awful lot of help.