Edit: There's an update to this post here giving Water UK's official figures for the past ten years. Their latest figure for 2010/2011 is 0.79 gCO2/litre.
In the UK we use about 150 litres of water per person per day in our homes. But what is the carbon impact of that water?[1]
A new calculator from the Energy Saving Trust has come out today which lets you calculate the carbon footprint of the hot water use in your home. In a report on the tool on the BBC website they mention that 89% of the footprint of domestic water use is caused by heating it. That leaves 11% of the impact from cleaning and supplying the water. So what then is the carbon footprint of a litre of potable water?
The 150 litres per person we use in our homes is just a fraction of the water we use, or which is used on our behalf. A report out in 2008 examined Britain's water footprint and found that we actually require 4,645 litres per person per day of which just 38% is drawn from our own resources. However just looking at potable water delivered by the water companies we use around 275 litres each per day (at a rate of 17 billion litres per day) including water delivered to our homes, offices, industry, etc.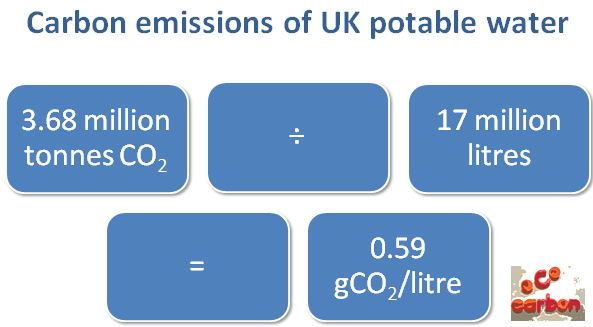 So taking that figure of 11% of the carbon impact of water coming from treating and supplying it, and the figure of 6% of the UK's emissions (of a total of approximately 560 million tonnes) coming from water we get 3.68 million tonnes of CO2 per year from the supply and treatment of potable water. That means that the total carbon emissions from a litre of water are approximately 0.59 gCO2/litre.
That's not actually a staggering amount, and certainly compares favourably with providing potable water using rainwater harvesting. There is an analogy to be made here with electricity, as there so often is when talking about water. It is much more efficient to transmit electricity around the grid when your rooftop PV installation is producing more than you need than it is to store the excess in a battery on site (assuming that there is already a nearby grid connection). In the same way it is more efficient to connect up to the existing water supply than it is to try and store rainwater for later use.
[1] Thanks to Mark Saich (@balebuilder) of Green Building Solutions for tweeting the question.